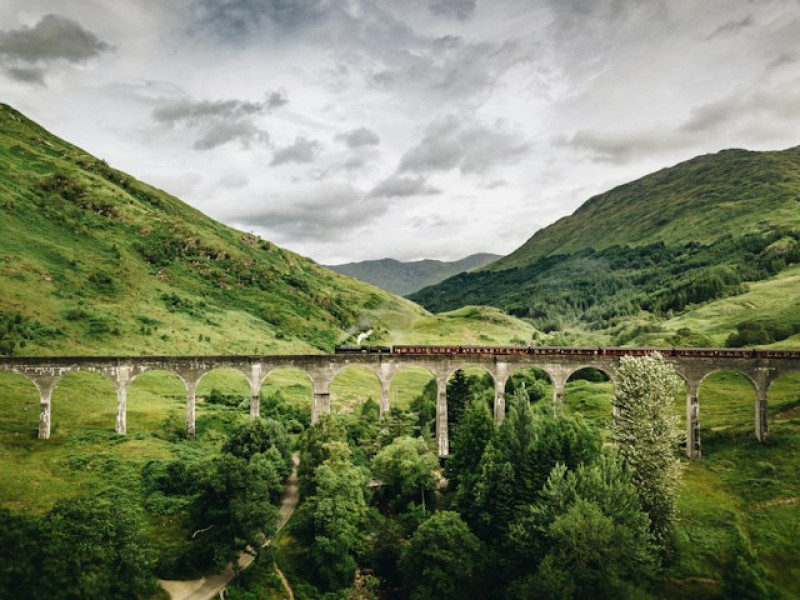 ---
---
The Highlands of Scotland offer some of the most picturesque, untouched landscape in the UK. Whether you're travelling all the way from London or enjoying a shorter journey into Scotland's scenic hinterland, doing it by train is a good way to see the sights along the way in style. There are a number of routes to take if you want to explore the Highlands but common consensus is, if you haven't sampled the West Highland Line then that is the way to go.


If you're travelling from London then the overnight London to Fort William Caledonian Sleeper train turns a necessary journey into something more fun. The price of £61 (advance booking necessary) will get you a bed for the night and a light breakfast in the morning. The train speeds out of London at 9pm and reaches the Highlands the next morning where you will quite literally be able to take in the scenery while enjoying a slower pace of life – since the train travels along the old track at around 40mph.


Alternatively, you can make the journey to Fort William from Glasgow Queen Street on the standard West Highland Line trains. Having reached the Fort William and gawped open mouthed at the spectre of Ben Nevis looming in the distance, it is make your mind up time. To stay or to venture onwards…


Staying a while is one option and being the biggest town in the Highlands there is plenty to do in Fort William. Take in some culture at the West Highland Museum, hike the Ben Nevis trail (or take a trip upwards in a gondola to save your legs), visit the Fort William remains and climb to the top of Ardnamurchan Lighthouse.


The other option is pushing on even further into nature with a separate train from Fort William to Mallaig. Often described as one of the world's greatest railway journeys it is unlikely you'll disagree. You can take the standard West Highland Line but we would recommend booking a place on the Jacobite steam train if you can – although this depends on the time of year you travel, the Jacobite only runs from May to October throughout the year. Powered by steam, the train runs across 'clickety-clackety' tracks, over the 21-arch Glenfinnan Viaduct (immortalised in the Harry Potter movies), through the village of Arisaig and into Mallaig. Such is the beauty of the 84-mile journey, the train is known to stop at a certain point just to allow you to take it all in.


At Mallaig your Highland railway journey is complete but you can always set sail from the port on a ferry to Skye or one of the other surrounding islands.



Booking
You can book the London to Fort William Caledonian Sleeper train here and advance tickets for The Jacobite steam train are available here.



Photo credit: http://www.westcoastrailways.co.uk/jacobite/jacobite-photo-gallery.cfm