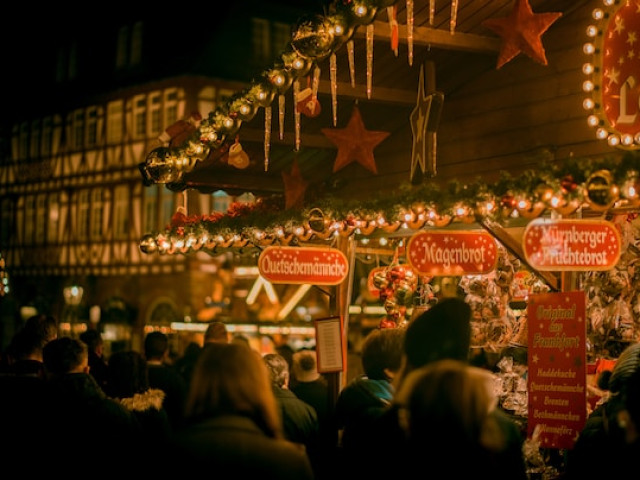 Here at the European Rail Guide we continue to be enchanted by the German Christmas atmosphere when we return each year. There is something very special about the German Christmas experience as tradition is celebrated without the same sense of commercialization which has crept into so many other countries.


We have selected five Christmas markets which are particularly accessible to rail travellers and which have all the ingredients for a magical build-up to your Christmas celebrations.





1 Cologne



With one of the largest popluations in the area (over 1 million), the city of Cologne lies on the river Rhine and enjoys a lively atmosphere with plenty to see and do. Between November 24 and December 23 it offers no less than four separate Christmas markets for you to explore, the most impressive of which is arguably the one lying in the shadows of the huge cathedral (Dom) right by the central train station. At this market alone there are over 160 stalls offering everything from hand crafted gifts to traditionally brewed German beer with glassware, ceramics and warm waffles inbetween!


Getting there by train


Cologne lies at a central crossroads for many rail journeys as it joins the Eurostar routes from Brussels (2.5 hrs) and Paris (4 hrs) to most major German cities and beyond. Frankfurt (1.5 hrs), Berlin (4 hrs) and Munich (4.5 hrs) are all served by direct and regular train services.



---
2 Trier



Trier, the oldest city in Germany, lies on the river Mosel just over the border from Luxembourg. This city, with a population of around 100,000 is smaller and therefore more intimate in its atmosphere. Despite its far smaller size, the Weihnachtsmarkt does much to rival those of larger cities such as Cologne. With nearly 100 stalls located within the romantic setting of the medieval main market and cathedral square, the festive sights and smells will draw you in.



Getting there by train


Trier is also well connected on the German rail network. It's station can be reached from Frankfurt and Cologne (3 hrs), Luxembourg City (1 hr) and Brussels (4 hrs). This makes it a very convenient stop off point for rail travellers planning on going to or coming from Britain or the Benelux countries.



---
3 Stuttgart



Stuttgart's market is fantastic, the centre of the city is transformed into a beautiful winter wonderland. There's plenty of traditional stands on offer, over 250 infact, these provide a huge range of Christmas gifts, food and drink and entertainment for all the family - make sure you try the famous Stuttgart Hutzelbrot! There's a dedicated Weihnachtskinderland for children with activities and nativity scenes and the giant nutcracker.



Getting there by train


Stuttgart is a bit further south but is also well connected on the German rail network. It's station can be reached from Cologne (3 hrs), Luxembourg City (4 hrs) and Brussels (5 hrs).



---



Let the smell of Gluhwein (mulled wine) and Bratwurst (delicous fried sausages) guide you to the German Christmas markets this year. We promise you won't regret it!





Market Images © http://www.germany.travel/