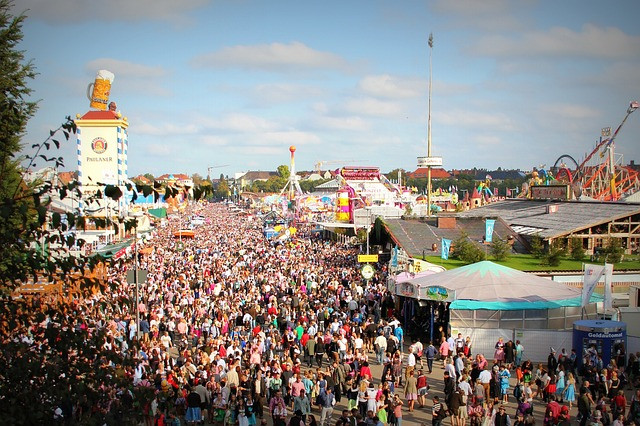 The origins of the Oktoberfest date back to 1810 when a festival was held to honor the Bavarian Crown Prince Ludwig's marriage to Princess Therese von Sachsen-Hildburghausen. This festival has been held each year since then but was brought forward slightly in order to maximise the benefits of the September weather. It is now held in late September/early October each year with the centre of the festivities being the Theresienwiesen (Theresa fields) a short distance south-west of the main train station. Do bear in mind that the Munich Oktoberfest is the largest such event worldwide, so making it extremely busy and finding seats for large groups very tricky! Plan ahead!


The format is always similar - plenty of beertents and plenty of beer to drink once you are there. This is often served in staggering measures with a litre being quite normal, and the waitresses serving up to 10 'Steins' of beer at once, is a real sight to behold and wonder! Beer is served from 09.00/10.00 in the morning until 22.30 at night, although certain tents have later licenses until 01.00. During the festival there are also plenty of special events, entertainment and activities to keep you amused.


Over 6 million visitors now make the annual pilgrimage to the festival for beer lovers - make sure you're there to sample the fantastic atmosphere!